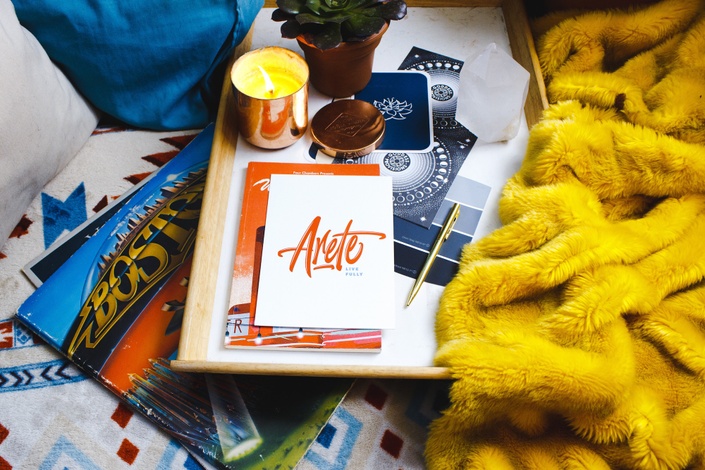 Writing is my Superpower: the Online Conference!
The meeting place for the authors of "Writing is my Superpower"
This is actually kind of exciting.
Every week, eight hundred writers gather in the Facebook group, Writing is my Superpower.
We share our writing, ask craft questions, respond to prompts, and debate examples from famous literature.
It's a fantastic group.
So I thought it was time for us to take the next step — to have a writing conference for us (and any friends we invite).
I love writing conferences!
I find them educational and inspiring — a good writing event can give you so much artistic fuel for the rest of the year.
I've created some of my favourite stories from their prompts, and I've made great friends during them.
This will be a two-day event, over January 5th and 6th.
I'm currently envisaging three events a day — morning, afternoon, and night (US east coast time). This will likely be a small, intimate conference, and I'm imagining that every participant will be able to attend all the events, if they wish.
In other words, there will be no "double-booking" or breakout sessions — I'm going to keep this first conference simple.
What does registration include?

Every session will be recorded and available to you: you will be able to watch and re-watch everything at your leisure, any time you want (lifetime access).
There is no bait and switch here, and no extra price to get access to the recordings: one price gets you access to every session and to all the recordings, handouts etc, forever.
(Now, if a visiting author wants to offer an extra service, like a manuscript reading or something similar, in theory that would be an extra cost. However, your registration fee will cover all the sessions of the conference.)
Why you should trust this will be good:
I love creating writing events!
For three years, I co-directed a literary festival in New Orleans, a three-day event that brought writers from all over the world, and which ended in a masquerade ball.
I've also been the coordinator for two "young writers" school writers' conferences here in Tennessee, and I've managed a number of reading series for local writers.
If, for some strange reason the event doesn't happen, I will refund your money, but I can't imagine that would happen.
I'm going to bring in some great authors to talk to us, share their craft process, and answer our questions.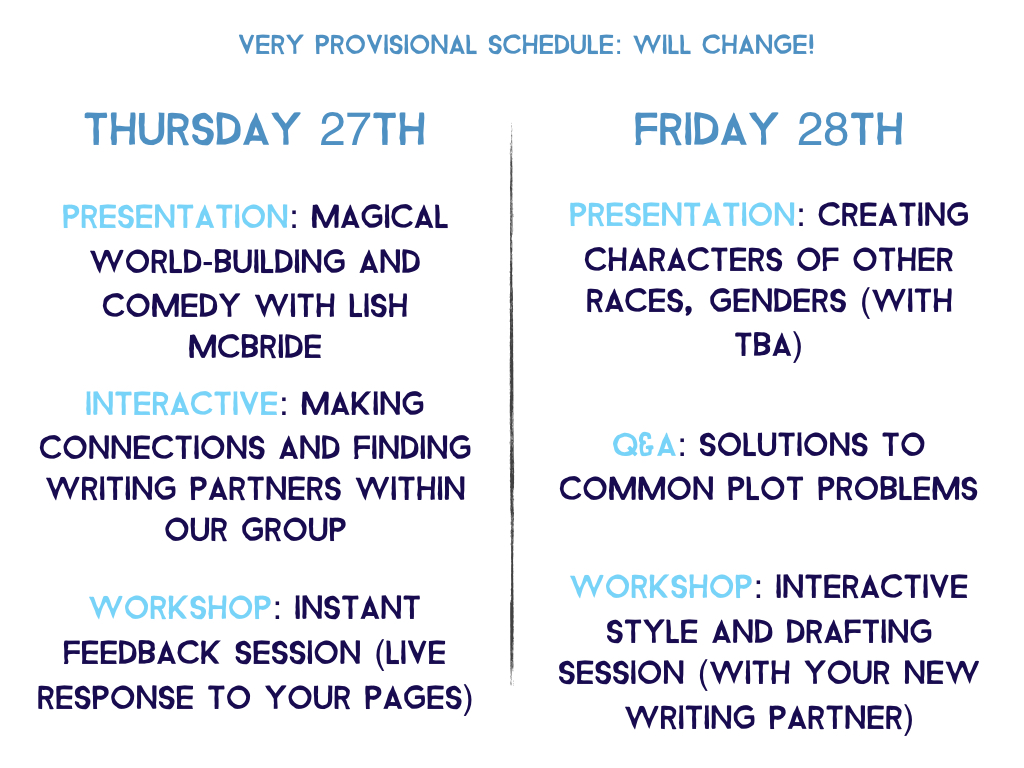 Provisional schedule:
(This section will expand as outside writers are confirmed)
I surveyed the writers of Writing is my Superpower, asking what kind of events people wanted to see.
In each category, there were several clear winners.
Writers asked for craft talks on
Writing the "other" — creating characters who are very different to you, the author
Solving plot problems — what are the most common issues for novelists?
Prose style and the writer's voice.
You also loved the idea of a "two-page" instant feedback session, getting an instant response, live, on the first two pages of a piece of writing.
And people really liked the idea of a chance to meet other writers, make connections, and see if someone (s) wanted to become a writing partner / beta reader.
So that's what we're going to do. And I'll adjust and add sessions as more people sign up.
I've already booked a fantastic YA author, Lish McBride ("Hold Me Closer, Necromancer"). More names to come soon!
Your Instructor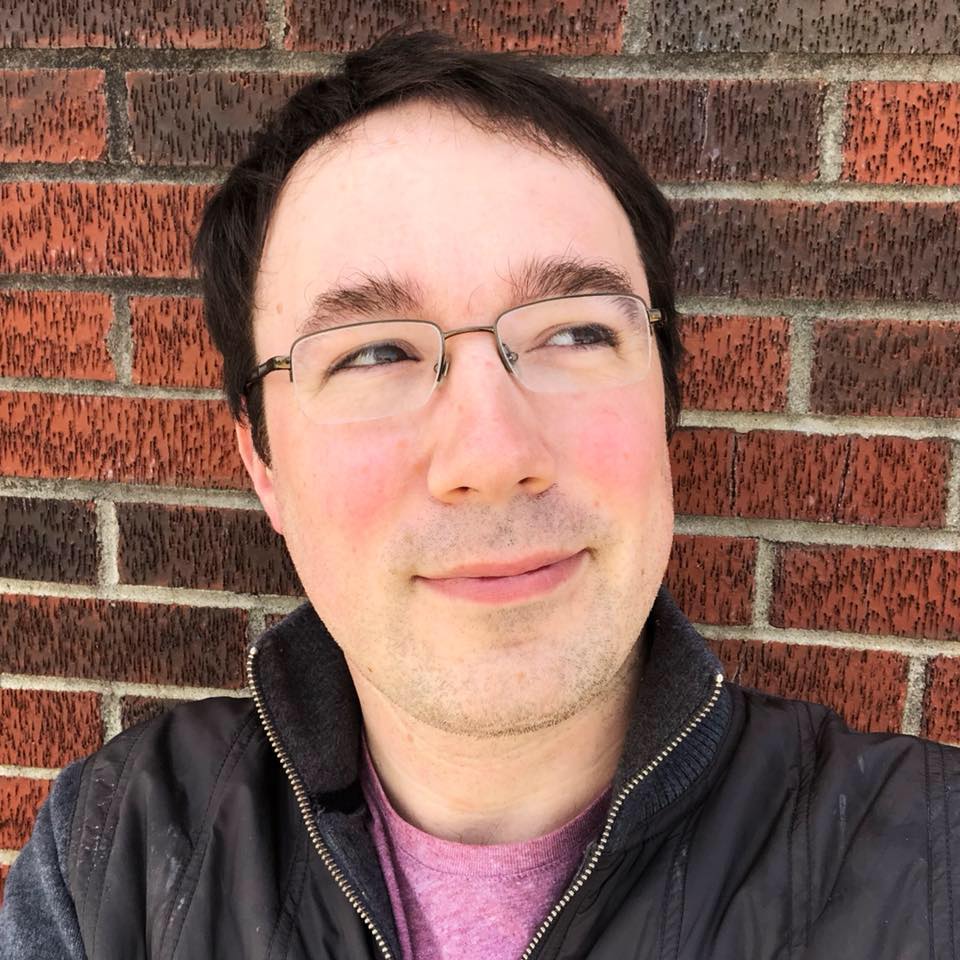 Hi! I'm Daniel. I help writers of all levels plan, draft, and revise their novels. I create simple, easy-to-implement techniques that help you master the craft of fiction.
This is the benefit of being a professional writing coach and a PhD researcher: I take complex ideas and present them in their clearest, most essential form. Thousands of writers have signed up for my free courses on style, plotting, and finding one's voice.
I'm a British writer living in Tennessee with three dogs, a cat, my brilliant wife, my very lively two-year-old son, and a Honda Odyssey mini-van.
My stories and essays have been published in many literary journals. I am the editor in chief of Burlesque Press, and I've co-hosted writing conferences such The Hands On Literary Festival in New Orleans and the Young Writers conference in Knoxville.
Frequently Asked Questions
When does the conference start and finish?
The conference runs from December 27 to 28. However, because you get access to the recordings forever, it is also completely self-paced if you want to watch it later - you decide when you start and when you finish.
How long do I have access to the course?
How does lifetime access sound? After enrolling, you have unlimited access to this course for as long as you like - across any and all devices you own.
What if I am unhappy with the course?
I would never want you to be unhappy. However, because this is a real-time event, with real people showing up, I do need to spend money to book authors and pay certain technology fees. So I would prefer you to register with the understanding that unless something surprising happens, this is not a "no questions asked" refund situation. Now, if you are unhappy, I do want to hear about it — email me and we'll work something out.
Hey I heard about a summit or event that was completely free — why I do I have to buy a ticket for this?
I can't speak for every kind of online writing event, but my impression is that what "free" conferences usually do is that you can watch live for free, but that to get the recordings, you have to pay a fee. The logic is that no one actually has time to watch everything, so lots of people end up buying access. And while that model probably works great for a lot of people, for our first event, I wanted to keep things very simple and clear: just register and you get everything. The more people register, the more visiting authors I can invite; additional funds will help me continue to run and grow our (free) Facebook group, too.