What is Plot like a Boss?
And why is it better than the Internet?
Plot like a Boss is a step-by-step framework to help you write a novel. It takes the things you're already good at, your talent and inspiration, and it fills in the gaps.
In a moment, I'm going to explain how I created the course. I'll describe how Plot like a Boss can make you a stronger, happier author -- and how it can speed up your writing career.
But first, I feel that I should address the biggest question, the elephant in the room:
Why is this course better than all the free writing advice out there?
Why pay for this course -- when there are dozens of blog posts and cheap ebooks out there that you could get for nothing, or almost nothing?
Plus -- if you're like the writers I speak to everyday, you've probably read dozens of those books and blog posts already. Can this course really teach you something new, something that will make a difference?
It can.
In fact, I've designed the course to help you develop three vital writing skills.

Here's why that's important.
I've worked with hundreds of writers over the years: as a colleague, as an editor, and as a coach.
I've sat with other writers in MFA and PhD writing workshops. I'I've led online forums and directed literary festivals.
And during all that time, I've seen so many writers struggle with three awful, terrible problems.
And this is significant: these writers were no slouches.
They had won scholarships to prestigious writing programs. They had been nominated for Pushcart awards. And they had talent. In many cases, they had so much talent it was scary.
And yet, despite their experience and dedication, the same three problems kept popping up.
Being good at writing, and loving to write, didn't solve those problems.
The worst part was -- I suffered from them, as well.
I could see the same trouble in my own work.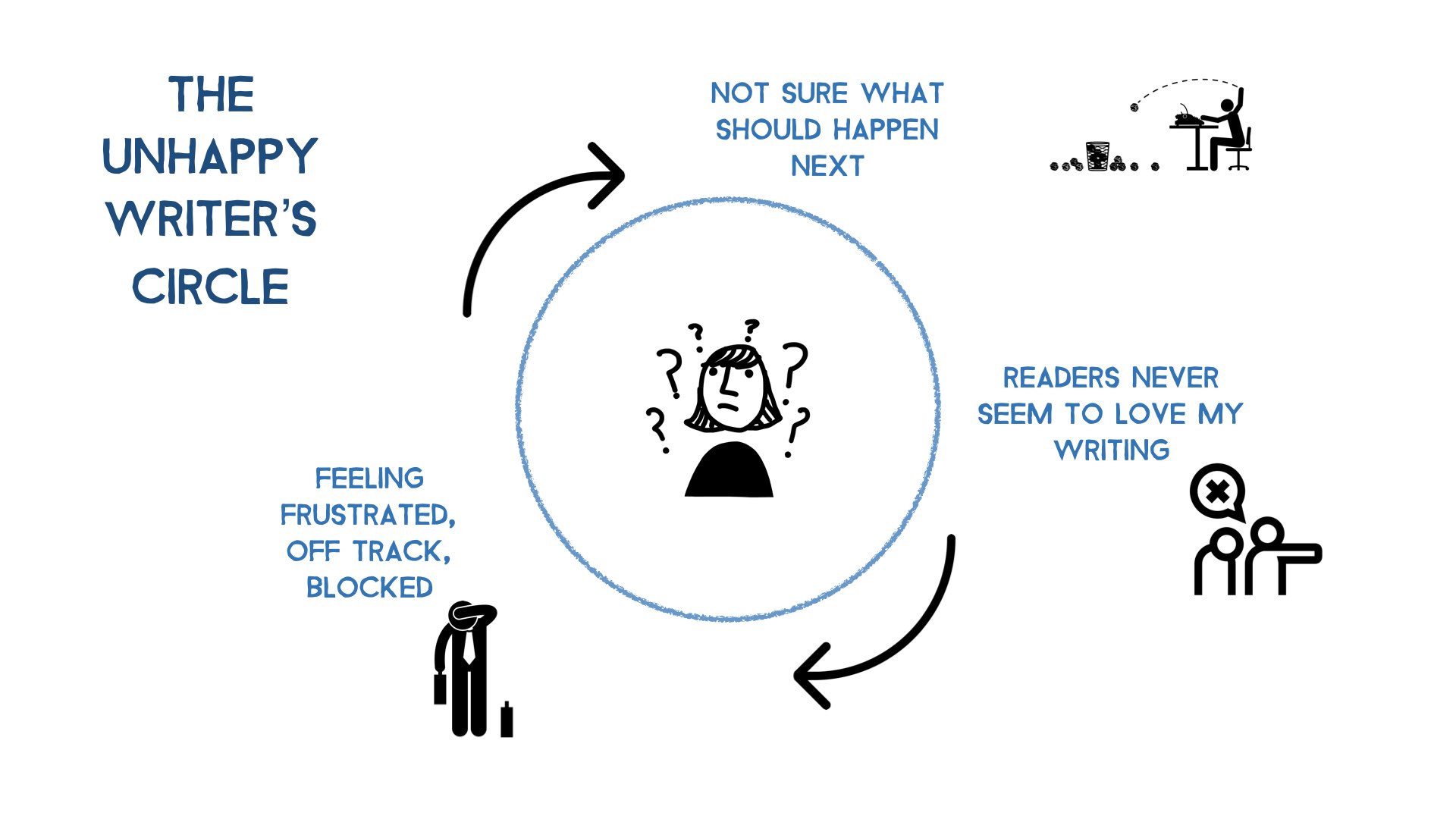 What were those problems?
1. The problem of plotting
2. The problem of narration
3. The problem of confidence
Let me explain these problems one by one.
See if you notice them in your own writing.
1. Plot. To call this a problem maybe sounds weird, because every aspiring author studies plot.
Most of the writers I meet have spent years reading craft books and learning ideas about plotting a story. When I give a talk on plot, writers almost always want to relate what I'm saying to the concepts they already learned: act structure, pinch points, inciting incidents, the hero's journey -- and so on.
In fact, there's so much good stuff written about plotting a story that it seems like there would be nothing left to talk about. After all, once you've read Robert McKee and you've attended craft seminars with bestselling authors, what else can there be to learn?
Unfortunately, in practice, plot remains a frustration to so many authors. Despite all that knowledge, all those blog posts consumed, the writers I work with feel worn out, frustrated, bewildered, unsure why their plot is not quite taking shape.
On one side, it's common for literary authors, those writers most interested in character, style, or theme, to find themselves unable to create a "readable" draft.
They do know about terms like "the inciting incident." They can list all the "stakes," and they even design their chapters to build up to a big revelation.
And yet they can tell, when they re-read their draft, that the story sprawls weakly all over the place, and not in a good way.
Their understanding of plotting technique hasn't stopped them producing a loose, drab, meandering draft.
Similarly, writers on the more "genre" side of things (crime, fantasy etc) sometimes struggle to begin their stories at all.
If a librarian on Mars with a drinking problem and a robot sidekick discovers a ghostly conspiracy while solving a murder... which bit do you introduce first? What should happen in chapter one?
How soon do we need to learn that ghosts are real?
Before or after we meet the sidekick?
This not a good place to be.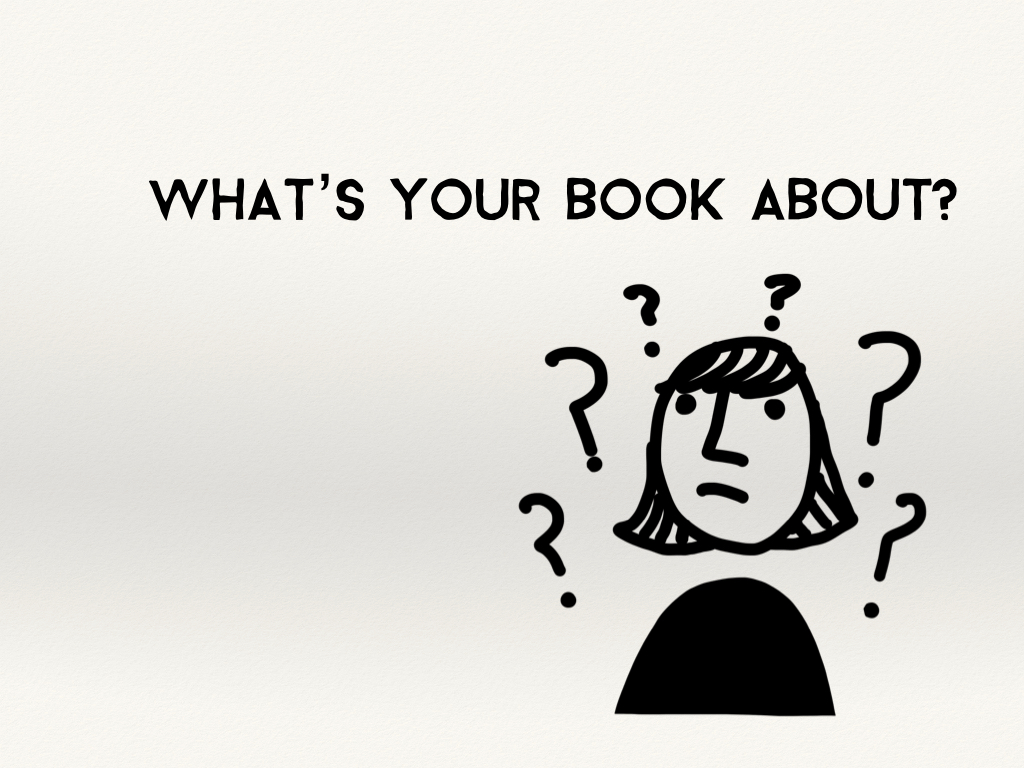 It can be miserable to be inspired to write, yet not be able to turn that inspiration into a steadily escalating, engaging story.
However, this plotting challenge is compounded by the second problem: the problem of narration.
In my experience, writers don't talk about this problem much. Most don't know they have it.
Some people even get angry when I've pointed it out in their work.
In other words, it's not like the plotting problem, which everyone is aware of: the problem of narration only becomes noticeable when you give your writing to someone else -- and they don't like it.
Oh -- and by the way -- when I say "narration," I'm not talking about choosing a POV.
"He" or "I" or "you" -- it doesn't matter.
This is, instead, about how the fullness of your artistic vision gets communicated to your reader.
The problem of narration manifests in a few ways: the worst outcome is that the reader don't seem to get what you're trying to say.
You show a page of your writing to someone else, and -- to your surprise -- they are confused and bewildered about what is actually going on. They simply don't understand the meaning of the lines on the page (even if you think you wrote something pretty simple and obvious).
That's the worst way to suffer from this problem, but even the less serious cases are wretched. Sometimes your readers, while they do grasp what's happening in the story, simply don't enjoy it very much.
It doesn't move them.
Or they comment that your main character feels a bit robotic, a bit hard to like.
Many of us writers get defensive at this stage, and want to blame the reader. Perhaps my art, we start to think, is just too elevated for these common types.
Perhaps, we start to whisper to ourselves, I was made to be a more Olympian kind of creator, too remarkable and intelligent to be successful...
This sounds silly, maybe. Only, I've certainly felt this way on occasion.
Still, I came to see, over time, that I was the source of the problem -- because of my inadequate narration skills.
I'm not saying that a good writer will please every single reader, nor am I saying that every writer, no matter their background or life experience, has the same difficulty reaching a mainstream readership. I'm definitely not saying that.
But I am saying that we writers can make things a lot more enjoyable for our readers, and we can probably reach more people with our work, if we boost our narrating skills.
It isn't something that comes naturally to most writers. It isn't necessarily part of your literary talent.
It's a skill that most of us have to build up, because without it, we just can't get people to read our stuff.
The third and last problem is writer's block, in all its forms.
Writer's block is crafty. It doesn't always look like the stereotype, like someone staring at a blank page, unable to write the next word.
For some aspiring authors, it can instead look like busily rewriting chapters one and two over and over again, and never making forward progress.
For others, it's more of a gradual grinding down of one's confidence and drive. Or it can manifest in half a dozen never-quite-finished projects, or -- and this is probably my biggest personal failing, if I'm being honest -- a failure to send out and submit work.
--
These three problems, of course, build on each other.
Ugh.
When you aren't sure what to write, and in what order (plot), you find it harder to create good, clear scenes (narration), and when readers don't like what you've written, you become more frustrated and unhappy with yourself and your writing (block).
This vicious cycle can feel mildly frustrating, or savagely infuriating, but the end result is the same: you aren't producing a finished book.
And you have a talent for this stuff. You love to write.
And yet you aren't making progress.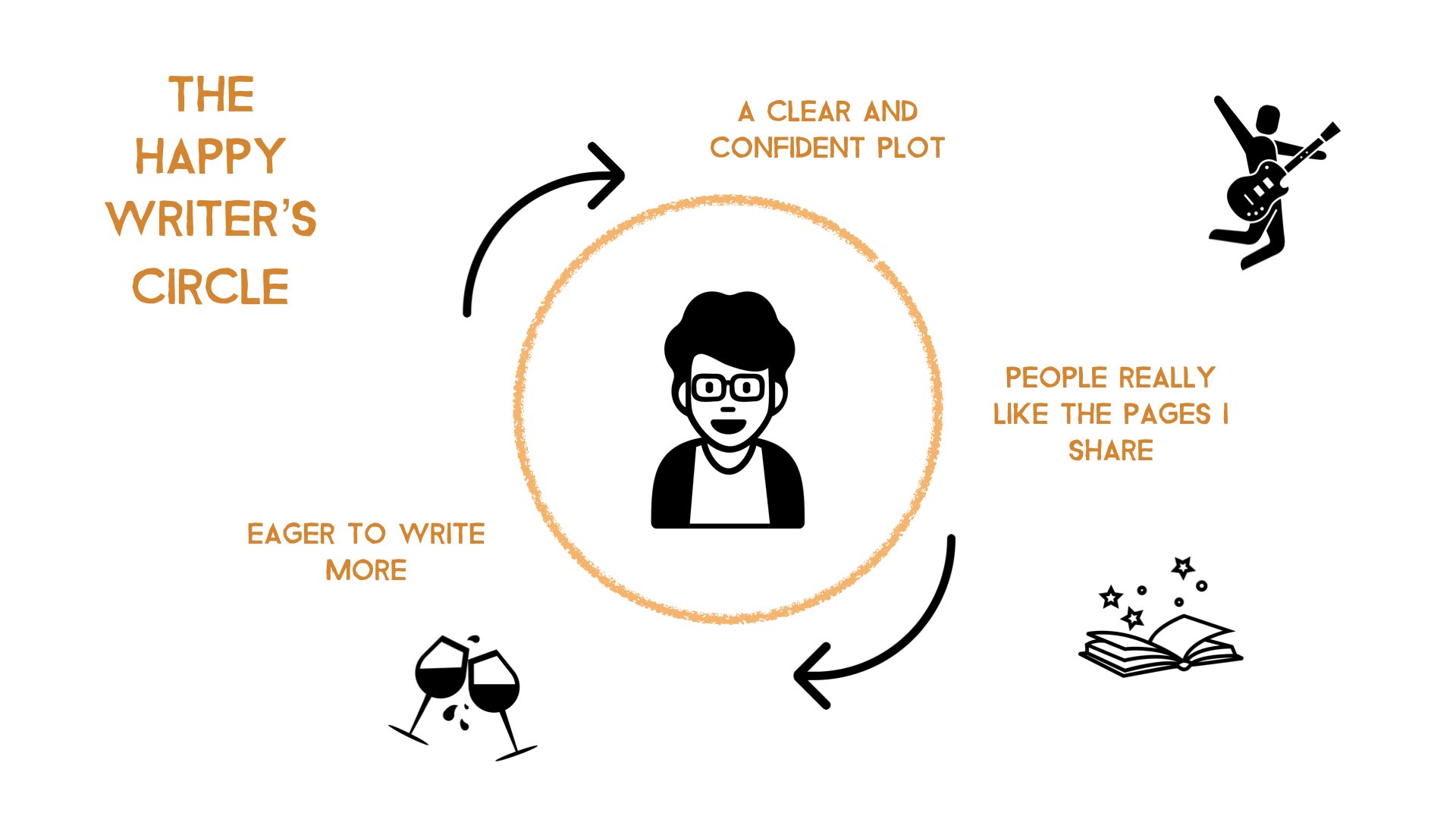 What if the cycle could be reversed?
What if you could be clear and confident about your plot, and start writing pages that more readers loved, and also adopted a more robust writing process?
Isn't it likely that each success would feed other successes?
As you got more praise from friends and writing partners, it would be less stressful to adjust and fine-tune the plot, and -- in turn -- as the plot became more distinct and bold, you would become able to present each scene more powerfully and deftly.
And then, doesn't it seem likely that you would feel better about your writing, and start finding more time in your busy schedule to do it?
That's the change that Plot like a Boss aims to make in your writing life.
It's the result of years of research, individual coaching, and testing.
I did a PhD in this stuff so you don't have to.
The course teaches three things:
1. A step-by-step framework for creating a plot out of your main character. You provide the setting, the protagonist (or protagonists), and a "thing" for the novel to be about — and the framework will show you how to the turn those components into a gripping, easy to read, intriguing 300-page plot.
This process is, on the one hand, simple -- in the sense that it lets you forget about jargon like "the hero's journey" and "the inciting incident" -- but, on the other, it can become as complex and profound as your story needs it to be.
We're able to dispense with those ideas because, in this course, we focus on a character-based story, and we build the plot out of the main character. This not only creates a more memorable protagonist -- it also makes the construction of a gripping, engaging plot much simpler.
This "ABC" plot shows you how to construct a plot out of the things your reader most cares about: mysteries, plot twists, and a main character's struggles and yearnings.
2. A detailed and intricate training course in narrating a great scene. Here are the techniques for narrating and building up the reader's interest. This part of the course teaches you how to stop confusing your readers, and how to tell stories that they will adore. This is the skill that will make your readers say, after only a page or two, "wow, this is a good book, I should keep going."
3. A robust approach to creating -- or improving -- good writing habits. This section advises how to cope with the doubts, anxieties, and dread that all writers have to grapple with.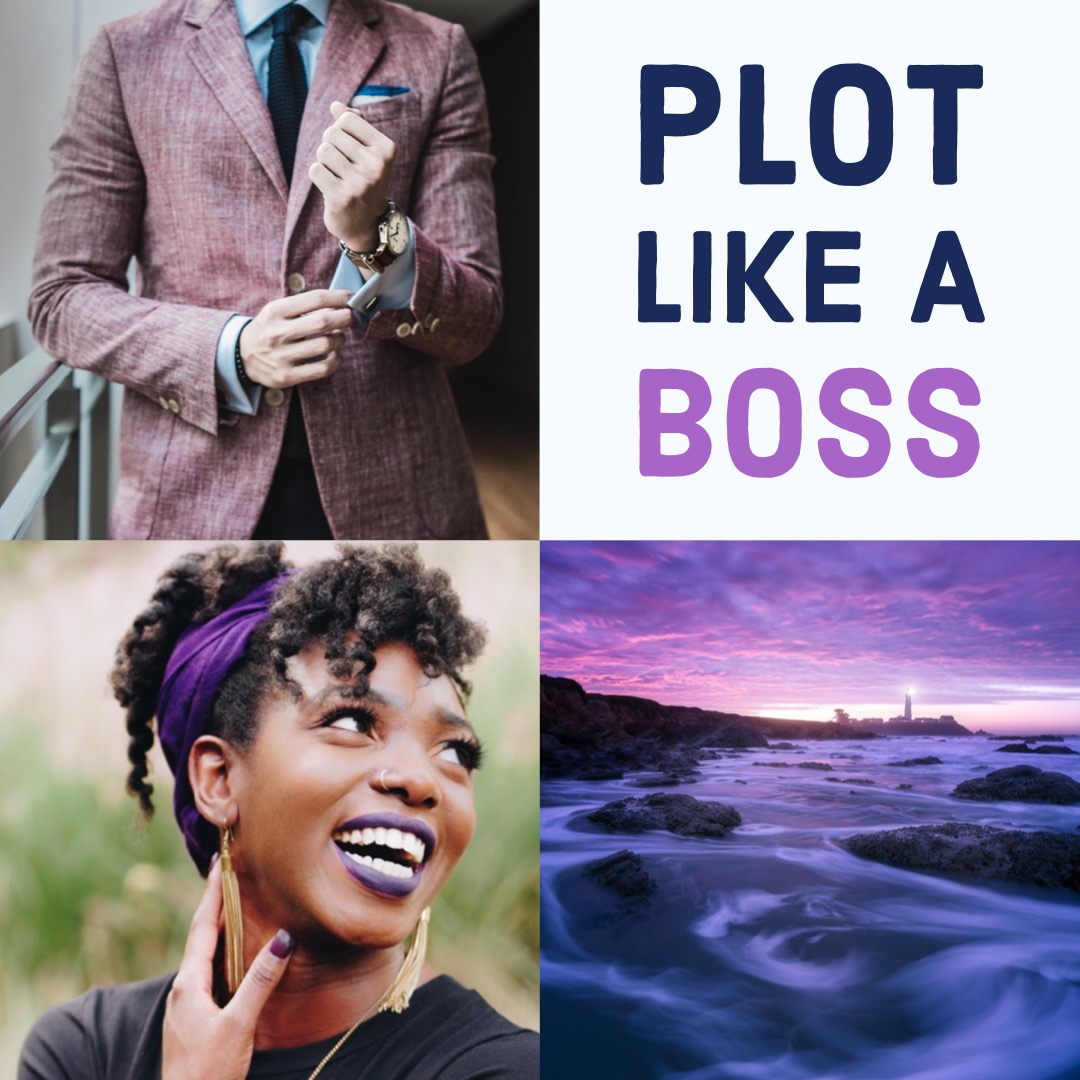 These lessons will grow with you as your writing progresses.
They will help you if you are just starting out (I give you detailed outlines, for instance, for constructing the first 10,000 words of your novel), or if you have completed a draft and are now ready to revise (I show you how to spot the more subtle, insidious plotting problems.
You'll develop these skills via video lectures, short emailed prompts, audio files, and worksheets.
--
But wait... there's more!
There are four additional bonuses included in the course.
1. The novel-writing manual: this is a hundred-page printable handbook that walks you through the plotting techniques of the course. Each page prompts you for a little more of your story until you have planned out the entire plot. Many writers have found this transformative.
2. Audience-building tips: a game plan for building up a readership, today, before your book is published, on a shoe-string budget.
3. Tech advice: a walkthrough of the best and most important features of novel-writing software like Scrivener or Ulysses.
4. An all-round fiction toolkit: I included a series of powerful techniques on writing style and constructing good dialogue -- just because all readers care about these things.
--
The course also comes with a no-questions asked guarantee. Buy it and don't like it? Email me within 30 days and I'll refund your money. I won't even ask why.